Rod heating mahcine with auto rod feeder
1. Main structure:
(1) SPZ-15~SPZ-300 generator
(2) Forging table and capacitor
(3) 600-1500 long Tunnel shape coil
(4) Pneumatic rod pusher
(5) Infra red temperature sensor
(6) Temperature controller
(7) PLC controlled rod lifter
2. Output frequency: 1-20KHZ
3. Suitable for rod Ф10~80
Keyword: induction heater, high frequency brazing machine, melting machine,
CONTACT NOW
DetailsapplicationsotherInstallationDimensions
Applications:
M.F. forging furnace is used for the heating of bars and rods larger than Φ12, the material can be steel, stainless steel, copper, brass ,aluminium and so on. The heating can be the whole rod, end of the rod or dle part of the rod.
Structure of the M. F. forging furnace: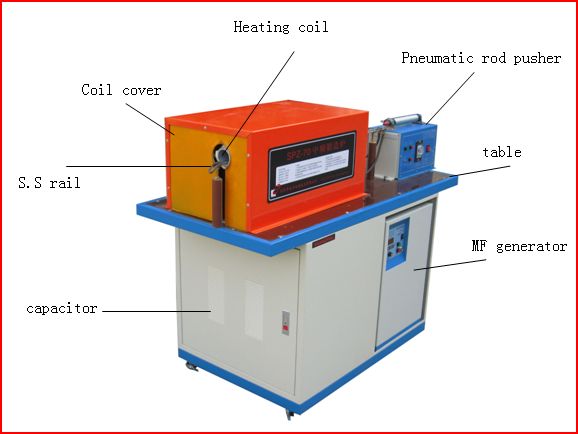 The furnace includes basically the SPZ medium frequency generator, the compensating cap, the working table, the heating coil, coil cover, rod feeder and so on. For some applications, the infrared sensor, temperature controller and automatic rod feeding systems can also be included.

Main features of the M.F. forging furnace:
(1) Wide frequency range from 1KHZ to 20KHZ,frequency can be designed to satisfy different size of the heated rods.
(2) The heating coil can be 500mm to 1 meter long, several pieces are heated at the same time to make sure the penetrating effect.
(3) In the continuous heating process, the load inside the coil is stable , thus to overcome the great heating power change caused by the great change of the load during the heating course from cool rod to 1100℃ rod. The actual power can reach more than 85% of the rated power of the machine.
(4) Even when heating non-ferrous metals like copper or aluminium, the actual power can also reach more than 85% of the rated power of the machine by design the coil properly and match the compensating cap correctly. 3.5KG copper or brass can be heated to 700℃ per kilowatt in an hour.
(5) Compared with SCR medium frequency generator, our M.F. forging furnace is more efficient and consumes about 15—20% less power.

Main models and heating ability: